This post is all about Easy Dance Makeup!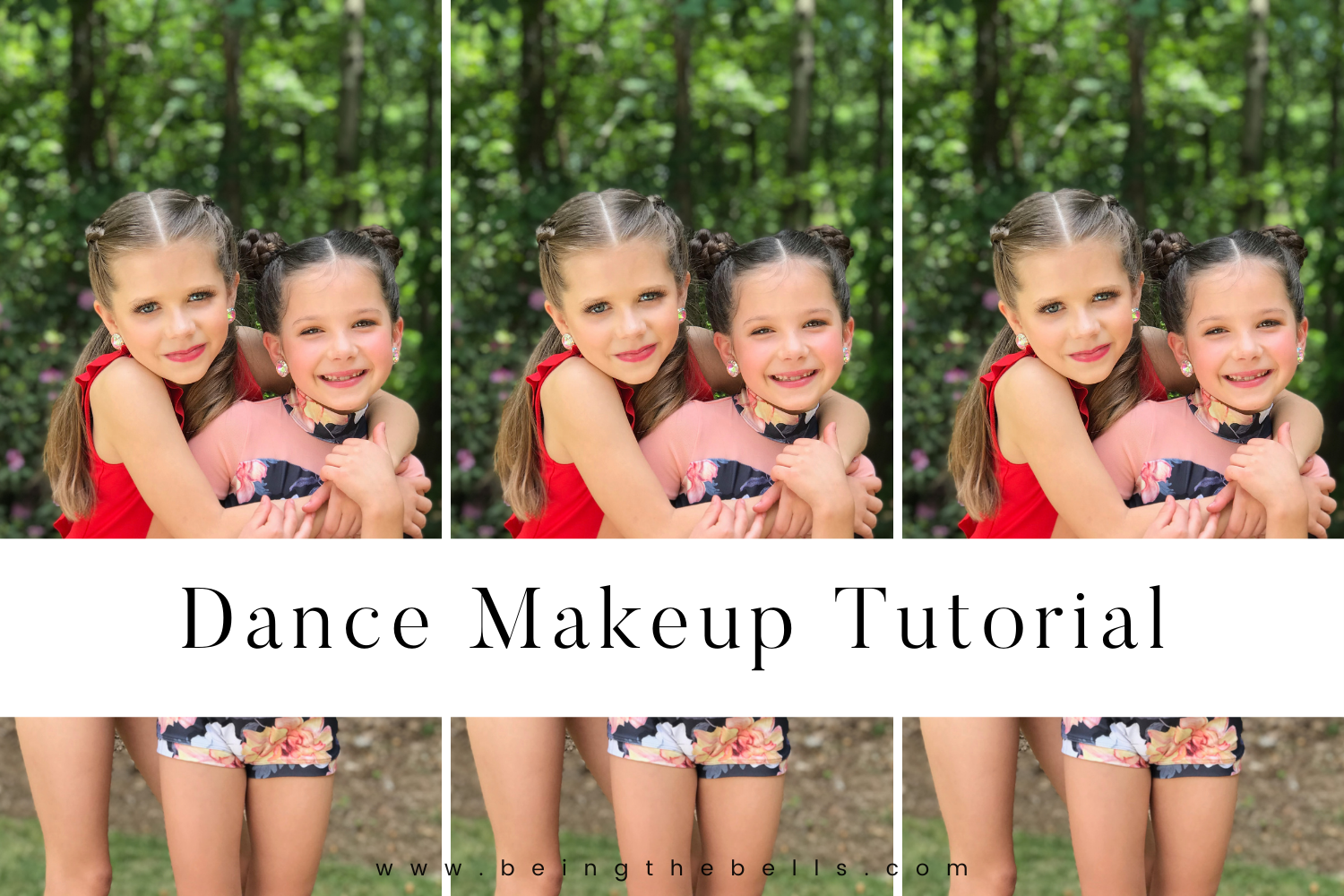 Dance competition season is upon us, and if you're looking for a dance makeup tutorial, you've come to the right place! Every dance mom wants to find the right balance of appropriate makeup for their child, while still being easy and most importantly- FAST! Backstage can be so hectic, and I have the perfect solution for you. This post is all about an easy dance makeup tutorial!
Easy Dance Makeup!
When my girls and I are at dance competitions, I always look around at tall of the moms with these huge makeup kits and tons of brushes and sponges, and I feel SO happy that I have a better solution. Not only does their makeup last all day, but it never dries and "cracks" the way liquid foundations does, so we can touch up and apply without having to start over. Without fail, I have moms ask every time- "What IS THAT MAKEUP?? Because everything fits in ONE compact!!! This is a picture of my actual dance compact…keeping it real friends!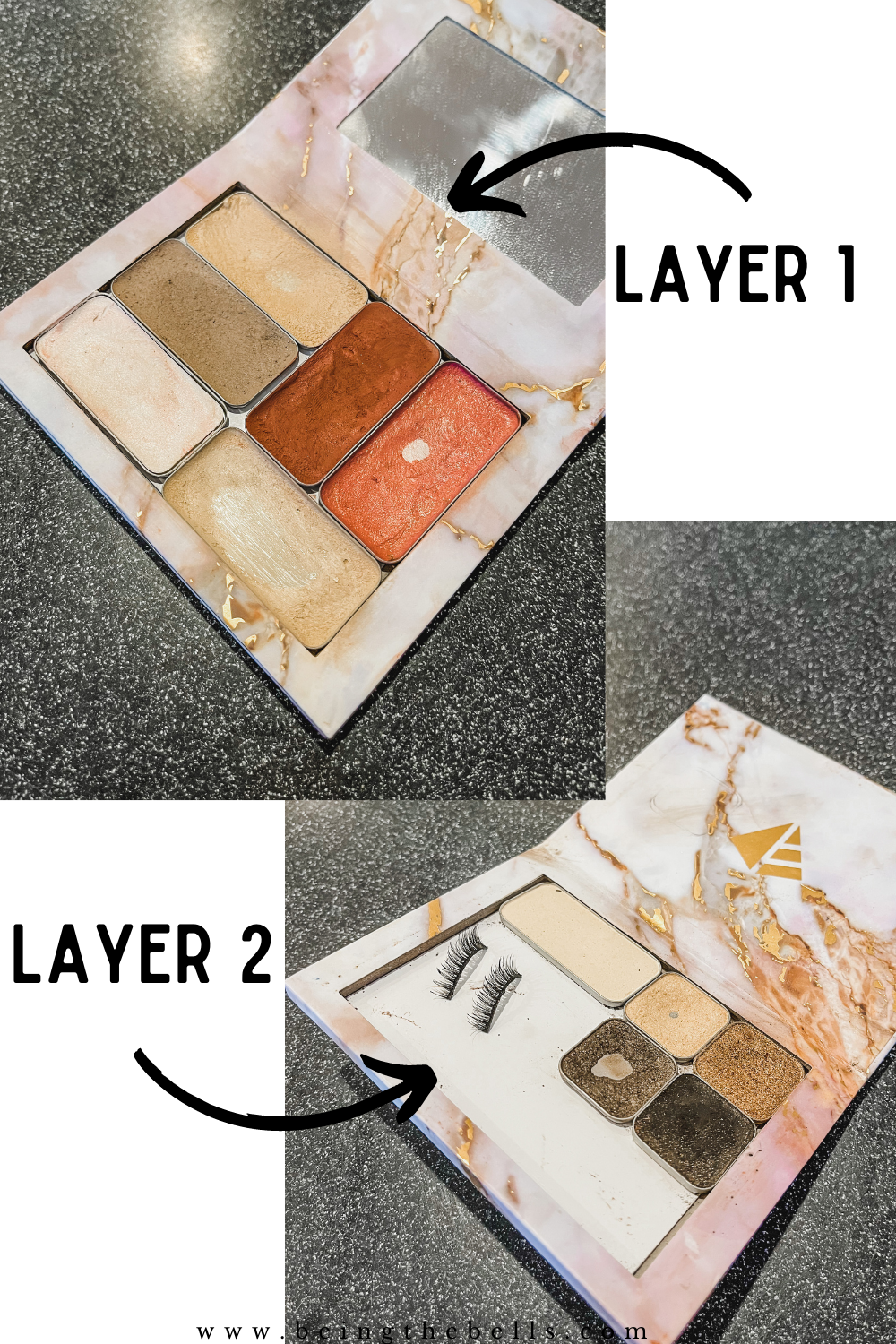 The top layer has highlight colors for my two girls (highlight is like the skin-colored "foundation"), a contour color, two cheek/lip colors, and an illuminator. The bottom layer has their eyeshadows, eyeliner, pressed powder, and wait for it——-lashes!!! Because the compact is magnetic, the magnetic lashes stick right to the compact! We use THESE lashes from Amazon and they work great! Plus there are plenty of extras because we tend to lose them! Even glue on lashes will stick to the compact with the residual glue!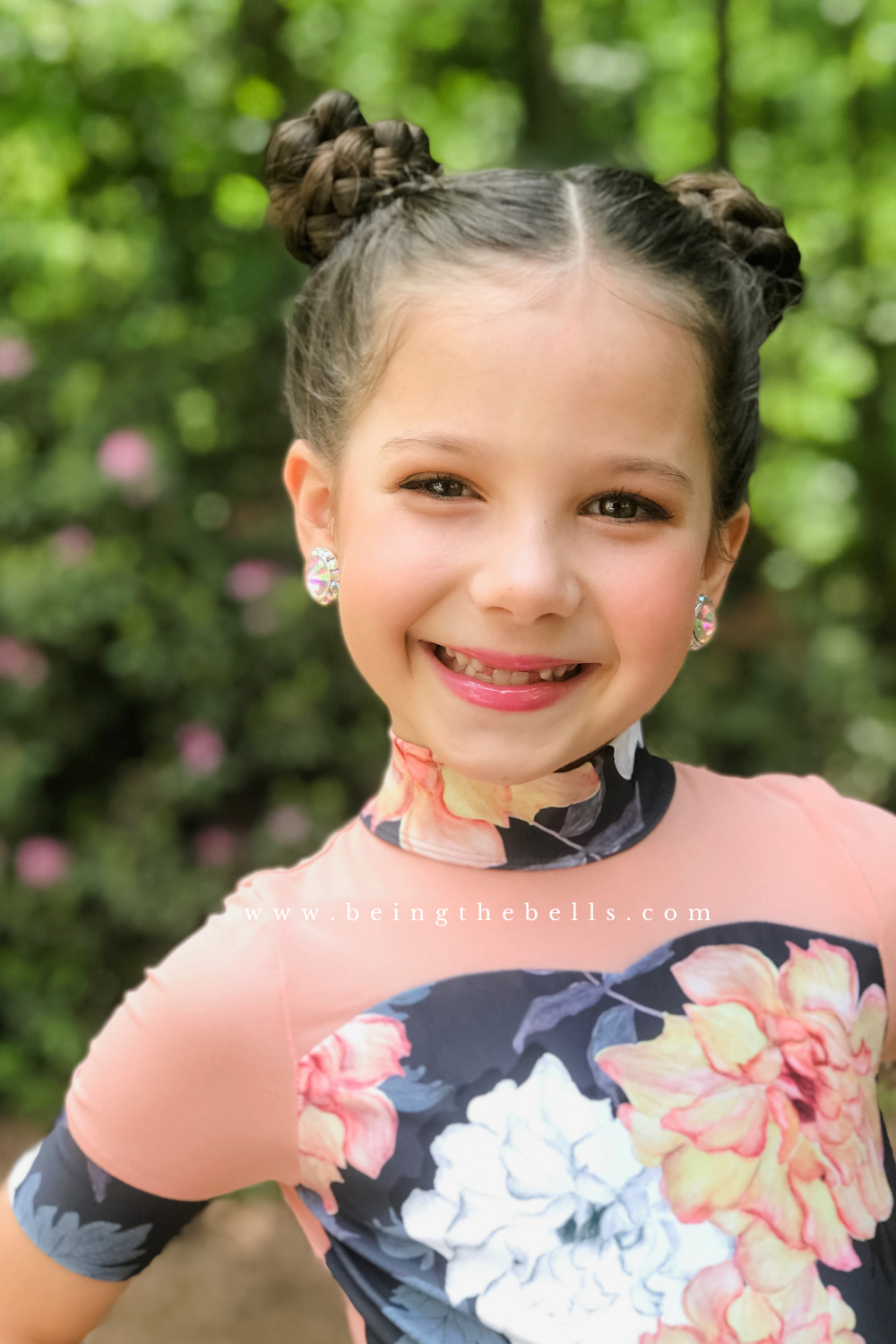 Easy Dance Makeup Tutorial:
This makeup could NOT be easier to apply. One compact, and you're done except for mascara! Here's the step-by-step tutorial for exactly how to apply Seint for a dancer…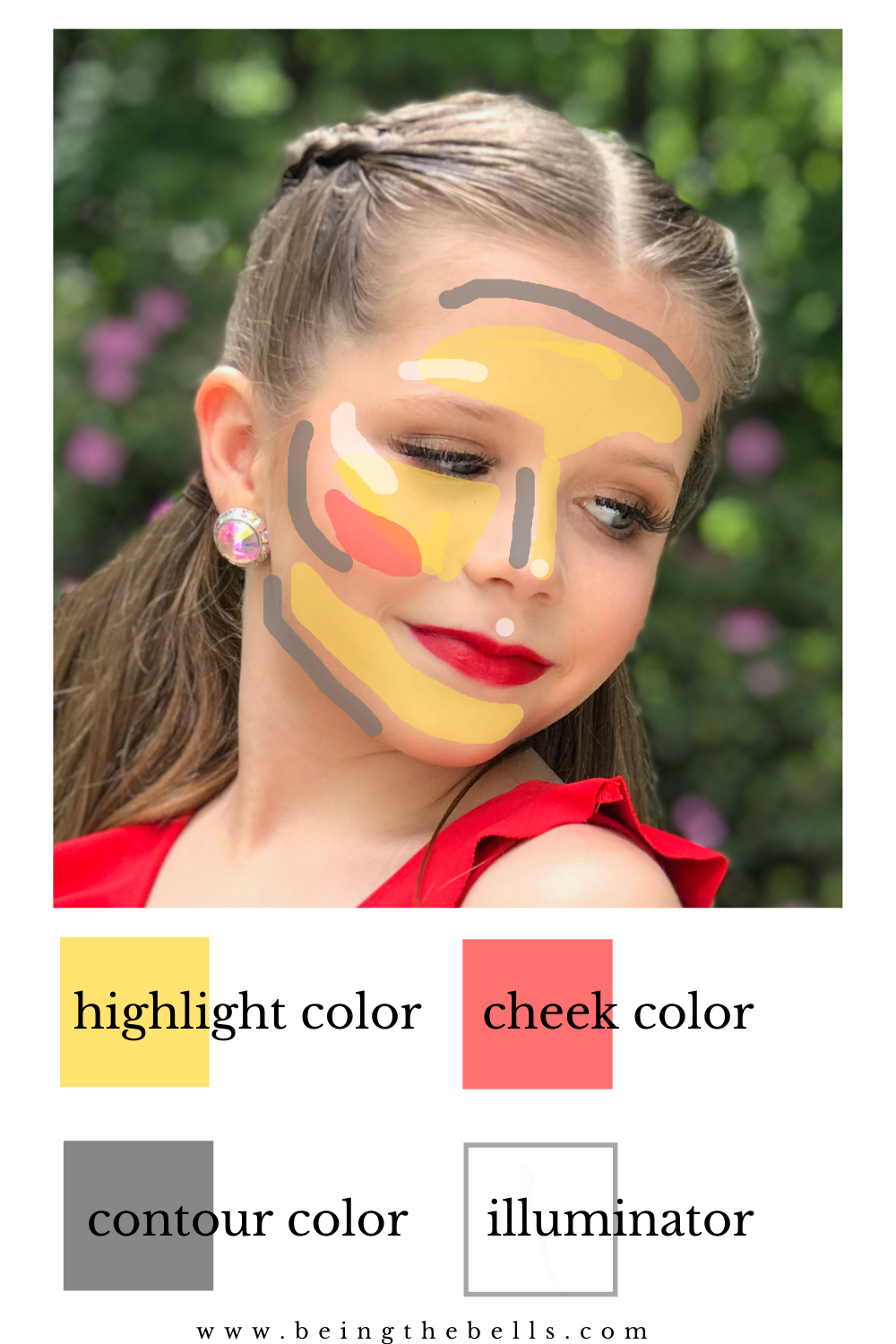 Using the DETAIL BRUSH (I use this brush for the entire face), apply in the pattern shown in the picture above.
Start with your contour color. You NEED contour, ESPECIALLY on stage! This is what gives the face dimension! When your dancer is onstage, the bright lights tend to wash them out, and without contour they can look flat faced and two-dimensional. Shop all the contours HERE!
Next comes your highlight color. This is what most people would call their foundation. Now, in most cases, Seint highlight colors need to be slightly lighter than skin color to get that signature Seint glow. But for stage, it actually needs to be slightly darker- again, the bright lights tend to wash the color right out! Shop all the highlights HERE!
Cheek color is next! If your studio requires a certain color, I can almost always find a near-identical match using Seint. Just email a picture to me at [email protected] My girls use a mixture of SANDSTONE and HOLLYWOOD. Shop all the cheek colors HERE!
Illuminator is what will give your dancer a beautiful glow on stage. Swipe it above the cheekbones, above the brows, on the cupids bow, and I always put a teensy bit on the end of their nose. The cream Illuminators are more subtle, and the powders are more blingy. Shop all illuminators HERE!
Eyeshadow time! Again, if your studio has specific colors in mind, I can get you matched. My girls wear SABRINA, BRIGHT EYES, RIGOLETTO. Find those HERE!
We also use BLACK FRIDAY EYELINER with the MULTITASKER brush.
For lips, the cheek colors do double-duty as lip colors. I use SANDSTONE and HOLLYWOOD for competition. In the pictures above, my older daughter is wearing SCARLET. You can find them HERE!
I also keep a VANILLA DUST SETTING POWDER in the compact in case they look a little sweaty/shiny in-between dances.
Finally, we do mascara and lashes! Again- the magnetic lashes go right in the compact!
A quick spritz of SETTING SPRAY and they are ready to go! The makeup lasts all day!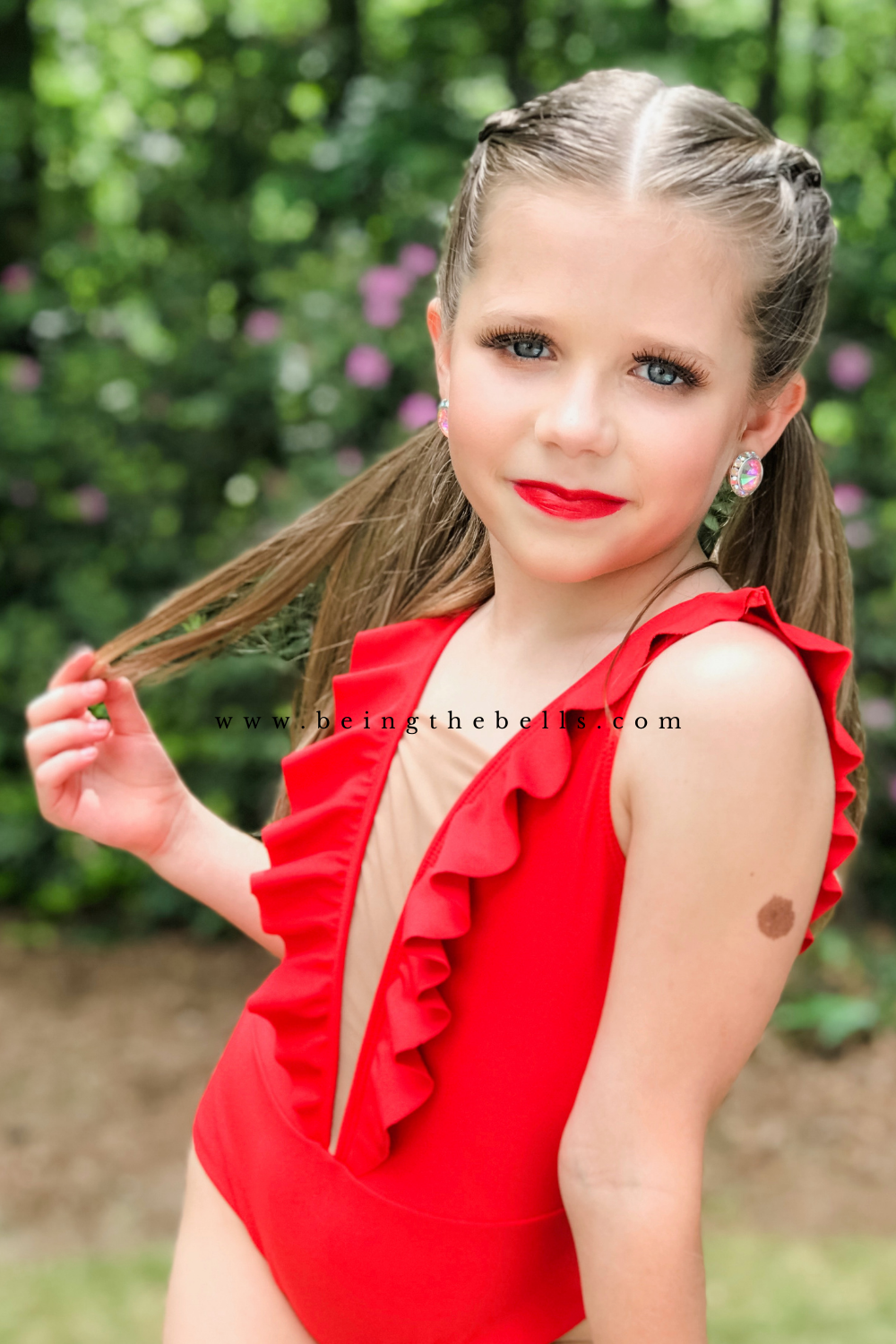 This post was all about the best easy dance makeup! Minimize the stuff you carry to competitions and make your life easier!
If you need help finding the perfect colors for your dancer, email me at [email protected], and include a picture of your dancer's face in natural window light. I'll give you my recommendations for their skin tone!
OTHER POST YOU MAY LIKE:  Why Cream Makeup?
Happy dancing!