This post is all about the best easy Butternut Squash Soup Recipe.
This post may contain affiliate links, which means I'll receive a commission if you purchase through my link, at no extra cost to you. Please read full disclosure here.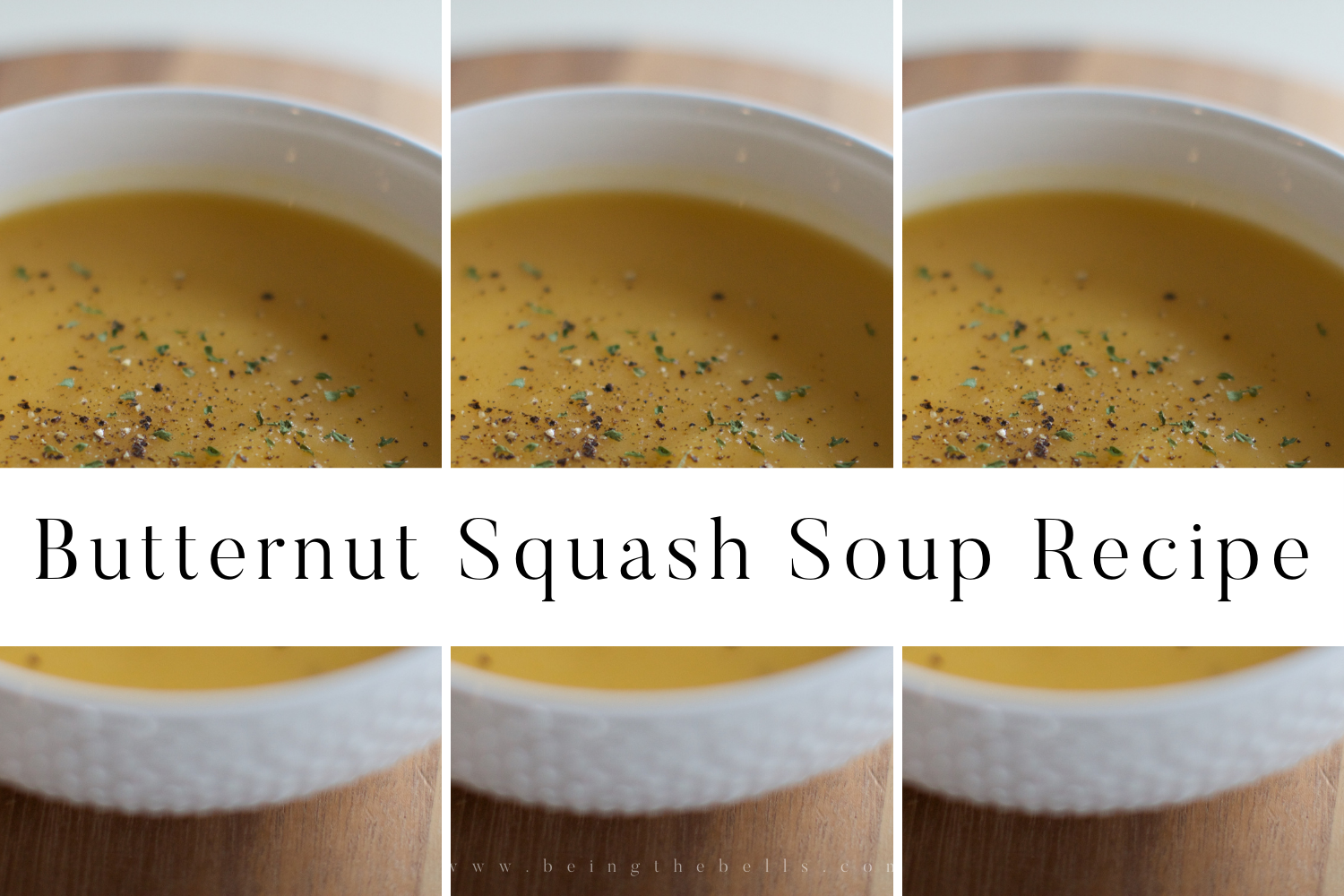 It's the time of year that everything is butternut squash and pumpkin!! And I'm not going to lie- I love it all! This Butternut Squash Soup Recipe is perfect for Fall, Winter, and any Holiday gathering because you can make it ahead of time and just re-heat.
Best of all, it's gluten free and dairy free!
If you're looking for a fast, easy, not too sweet Butternut Squash Soup- this is the recipe for you. I made this one to be perfectly savory, and it has a warm combination of spices. Most importantly, the preparation of the squash in my recipe is so much faster than peeling and cubing the squash before cooking- that is WAY too much work!
If you want to be Extra, serve it in a hollowed out pumpkin, and everyone will think you are a total cooking rock-star!
This post is all about the best easy Butternut Squash Soup Recipe to impress your family and your guests.
Easy Butternut Squash Soup Recipe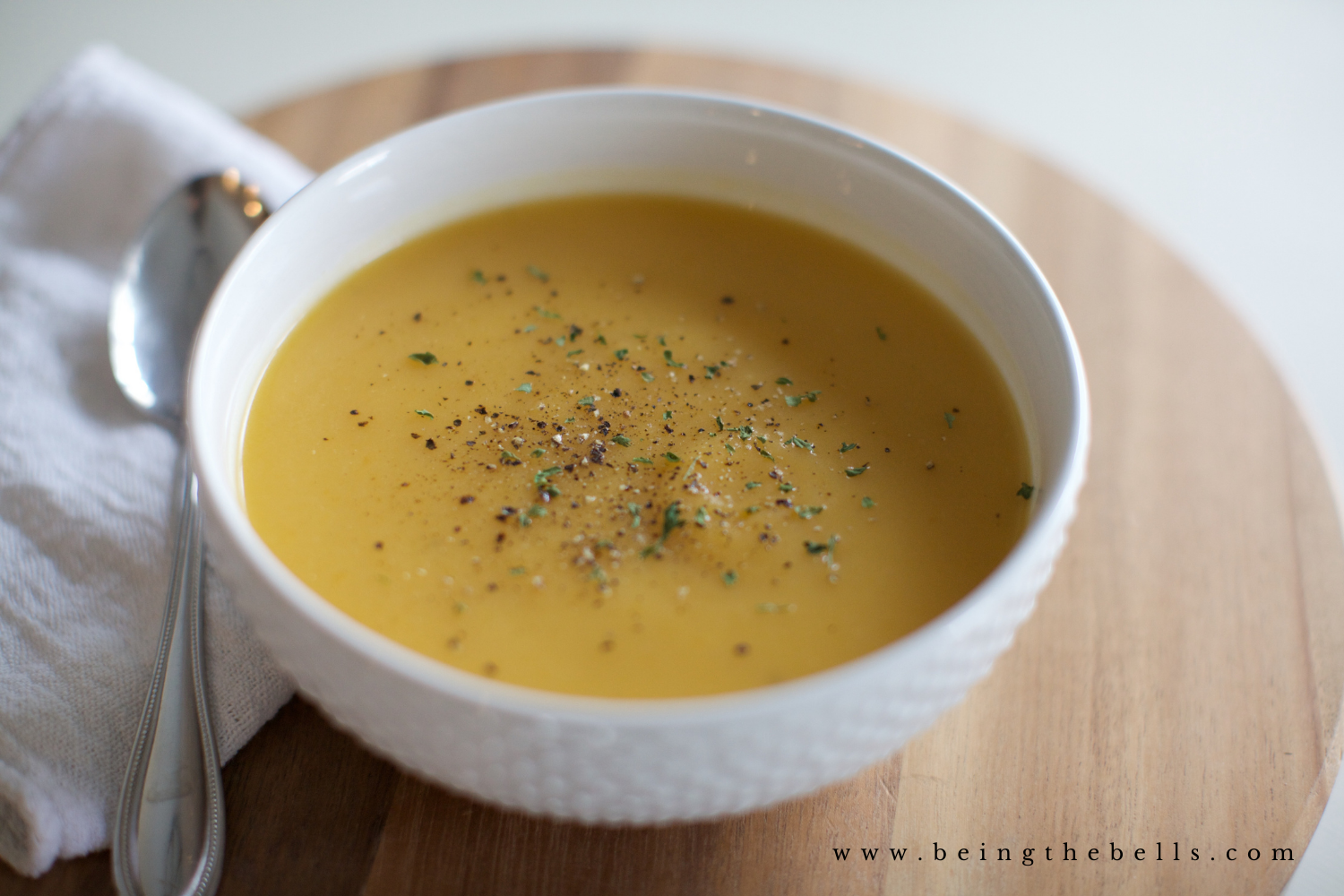 1. Prep the Squash
Cut the top of the butternut squash off just below the stem. Now cut the whole thing in half lengthwise. Repeat with the second squash. So many recipes call for you to peel and cube the whole thing, and I'm sorry but I do NOT have time for that.You need a GOOD knife and a surface that isn't slippery- I use a damp kitchen towel instead of a cutting board for this part.
Scrape out the seeds and drizzle the insides of the squash with a little bit of olive oil, salt, and pepper. Put the four halves cut side down on a baking sheet lined with foil or parchment paper. You need a baking sheet with raised sides or the juices will run all over your oven. Bake at 400F for about 30 minutes, or until you can poke through the skin of the squash easily with a knife.
Grab the supplies on Amazon:
2. Start the Soup
While the squash is baking, dice your onion, garlic, and ginger. Don't be too picky here- you're blending it all together later. If you don't want to use fresh ginger, you can totally use ginger paste from the produce section of your grocery store. Get it all cooking in some olive oil in the pot, until it all starts to soften and smell like heaven. Add salt and pepper to taste. The pot is important here, because you want something pretty thick. If you use a thin pot the garlic and ginger might burn so be careful!
This Budget Friendly Pot on Amazon is a Must Have:
3. Add squash to soup
After the squash has softened, remove it from the oven and let it cool a bit. With a big spoon, scoop out all of the flesh and put it in the pot with the other veggies. At this point, you need to add enough water with a spoonful of vegetable bouillon just to cover the ingredients, or use boxed vegetable broth if you prefer. Add in the remaining spices (rosemary and thyme) and let simmer for a bit until it all starts to come together.
4. Blend the soup
Now my favorite part! Use an immersion blender to blend the soup into a smooth, creamy, yumminess. I don't know about you, but my kids will not touch it if it's halfway chunky.
I highly recommend an immersion blender, but if you don't have one you can use a regular blender. If you use a traditional blender, be careful because the hot liquid expands when blended so only do a little bit at a time and put a dish towel over the lid of the blender- leave the lid vented a bit so you don't have a soup explosion. Ask me how I know.
This Immersion blender is a Great Deal:
Then just check your salt and pepper levels and add to taste, sprinkle with a little parsley and enjoy! If you want to be extra fancy you can top with creme fraiche (this will make it no longer dairy free), pepitas, crushed red pepper, or anything else you love!
Ingredients
2 Butternut Squash
1 large sweet yellow onion
2-4 cloves garlic (to taste)
1-2 Tbsp minced ginger
salt and pepper to taste
extra virgin olive oil
1/2 tsp. dried or fresh rosemary
1/2 tsp. dried or fresh thyme
Instructions
1. Cut squash in half lengthwise, scoop out seeds, season with olive oil, salt, and pepper.
2. Place on foil/parchment lined baking sheet.
3. Bake at 400ºF for approx. 30 minutes or until tender.
4. Meanwhile, dice onion, garlic, and ginger.
5. Saute in 1-2 Tbsp. olive oil in a heavy pot. Season with salt and pepper.
6. Scrape out flesh of squash, and add to pot.
7. Add rosemary and thyme.
8. Add water (plus bouillon) or broth to cover, and simmer for 10-15 minutes until all ingredients are soft.
9. Blend with immersion blender.
10. Add salt and pepper to taste. Top with parsley.
https://www.beingthebells.com/butternut-squash-soup-recipe/
You might also love my recipe for  Honey Mustard Chicken and Vegetables!
I hope you love this Easy Butternut Squash Soup Recipe! Let me know what you think! Happy Cooking!